In the vibrant tapestry of Christian Hip-hop, there have been illustrious figures who have left an indelible mark on the genre's expansion and growth. These trailblazers, with their unique styles and eras, have woven themselves into the legacy of CHH. Among these luminaries shines Crystal Sherie, an International Award Winning CHH/GHH music artist, whose presence in the scene is a force to be reckoned with. Crystal Sherie's musical journey began when she graced the stellar award-winning album, 'So Real,' by the renowned national recording artist, Kynne Smith. A true powerhouse, she collaborated with the former Hendrix Records recording artist, now the visionary Airtight Entertainment CEO/Artist. That was back in 1999/2000, and then, after two decades, Crystal Sherie emerged once again with her first CHH album titled 'TWENTY' in 2019, making an awe-inspiring comeback.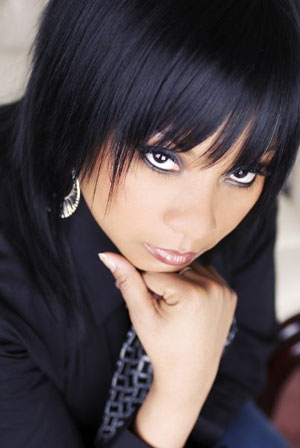 'Mad Luv,' one of the singles from 'TWENTY,' featuring the soulful vocals of Sheila Alexander, soared on the BDS Gospel Billboard Charts, etching Crystal Sherie's name in the annals of success. And now, brace yourselves for her latest masterpiece, 'The Rebirth,' an album that embodies the essence of her artistry.
Crystal Sherie possesses an uncanny ability to release music that delves deep into introspection, provoking profound thoughts and emotions within the listener. Her standards are sky-high, and she continuously raises the bar with every creation. Crystal Sherie captivates with her soul-stirring and emotive style, leaving you in awe of her immense talent.
However, it is her authenticity and sincerity that will sweep you off your feet. There is an almost mystical quality to Crystal Sherie's artistry, an ethereal sensibility that demands your unwavering attention. Her every word strikes with an impact, enveloping you in a mesmerizing experience. Technically proficient on the mic, Crystal Sherie is one of the few refined CHH female spitters who effortlessly deliver captivating bars, leaving you yearning for more.
'The Rebirth' is a revelation of Crystal Sherie's multifaceted talents, expressed across its 14 tracks, each offering a distinct musical journey. From the introduction 'Davids (Interlude)' to the compelling 'Sorry's Not Enough (Radio Edit)' and the empowering anthem 'Make Me Over,' the album weaves together a seamless tapestry of rhymes, stories, and sumptuous arrangements.
Every track on 'The Rebirth' is a testament to Crystal Sherie's unwavering dedication to her craft. There are no fillers here; instead, you'll find streams of consciousness that explore diverse themes and deliver powerful messages of worship. Crystal Sherie effortlessly traverses between smooth melodies and confident bars, showcasing her musical refinement and technical prowess.
From the 'Be Healed' to 'Set It On Fire,' and the captivating verses and empowering choruses of 'Strong And Mighty', the liberating and uplifting 'Free',  the compelling  sultriness of  'Don't Block Your Blessings', the confident and infectious 'Get Like Me', the thought-provoking 'Big Little', the rhythmic bounce of 'Wait A Minute', the high energy bangers 'City Walk (Turn Up)' and 'Time To Change', on to the powerful culmination of Crystal Sherie's journey 'What You Know', the emphasis is on meaningful messages and the freedom found in surrendering to a higher purpose.
This album stands as irrefutable proof that Crystal Sherie is a versatile artist who deserves her place among the brightest emerging stars. Her flow is rhythmic, charismatic, and brimming with countless shifts and nuanced expressions that will undoubtedly leave an indelible mark on your mind. Crystal Sherie's ascent up the ladder of success is propelled by a potent blend of skill, attitude, and an unwavering passion for her craft.
Prepare to be captivated by Crystal Sherie's 'The Rebirth,' where her musical prowess knows no bounds. Immerse yourself in her sumptuous melodies, powerful verses, and transformative messages. Crystal Sherie's star is on the rise, and her impact on Christian Hip-hop is set to reverberate for years to come.
OFFICIAL LINKS: https://crystalsherieworldwide.com