In the ever-evolving world of pop sensations, a celestial force has risen from the heart of Moldova, shrouded in a veil of mystique that electrifies the airwaves. Ladies and gentlemen, let's get ready to be spellbound by the enigmatic enchantress herself, San Harley, as she unveils her latest sonic masterpiece, 'Patlagica'! A rising star who has not yet revealed her visage, will leave the world in awe of the music that resonates deep within her. San Harley, a moniker that ignites curiosity and anticipation, has broken free from the confines of conventionality, taking the pop music panorama by storm with her genre-blurring prowess. Pop, trap, electronic, and rap genres fuse and dance under her sonic spell, creating an auditory experience that defies expectations.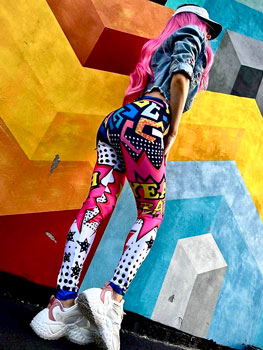 But let's focus our spotlight on the pièce de résistance, her latest gem, 'Patlagica.' A tune that transports you to the crossroads of pop, trap, and hip-hop, all while riding atop a rhythm so buoyant, you can practically feel it in your heartbeat. This track isn't just a melody; it's a magnetic force that propels your soul into an ethereal dance of emotions.
A tapestry of words, San Harley's native tongue, like a whisper from the gods, paints vivid pictures of unity and nostalgia. As you listen, you're swept into a realm where "Patlagica" isn't just a fruit; it's a symbol of connection and heritage, a link to the past, and a vessel for boundless joy.
San Harley's artistry is a cultural revelation, a testament to the power of local traditions infusing global trends. She playfully questions the origins of 'greceskii salat' while asserting that the allure of 'Patlagica' is a legacy woven from the very fabric of her homeland. It's an invitation to celebrate the authenticity that dwells within your roots and proudly showcase it to the world.
"Nu degeaba ai noștri iubesc mai des să zică," she sings, her voice a velvet caress of your senses. "Te-ai muiat de tot, ca o paltagică." In these lines, the essence of shared love and a sense of belonging envelops you like a warm embrace, taking you back to the heartwarming aroma of home-cooked meals and cherished memories. Immerse yourself in the world of 'Patlagica,' where rustic and refined dance hand in hand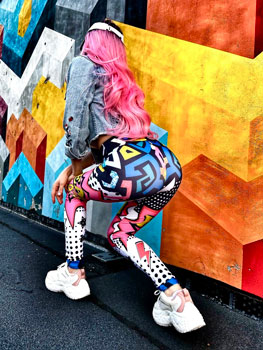 "Pa – pa – pa – Patlagica!" The rhythm bounces like a heartbeat, urging you to move, to surrender to the infectious groove that San Harley weaves. The chorus is a rallying cry, a call to arms for the world to embrace this unique fruit of passion and artistic expression. But don't let the playful melodies fool you; beneath the layers of sound lies an incisive commentary on society's obsession with materialism. "Banii nu-i mănânci, dar patlagica are gust," she declares, reminding us that amidst the hustle and bustle of life, true richness lies in the simple joys that bring us together.
"Fericirea-i mare, când între fructe și legume, Patlagica noastră face lumea să se-adune…" Amidst orchards and fields, in forests and plains, the 'Patlagica' orchestrates a jubilant assembly, drawing people from all walks of life to rejoice in its juicy splendor. San Harley's ode to this humble delight becomes an anthem of unity, a call to gather 'round and celebrate the mosaic of existence.
San Harley's 'Patlagica' isn't just a song; it's a vivacious celebration of culture, identity, and the unbreakable threads that tie us all together. With a voice that carries the weight of history and the exuberance of the present, she reminds us that music is more than sound – it's a conduit for shared experiences, a means to bridge the gaps between us.
So take a plunge into the world of San Harley. Immerse yourself in the captivating mystique of her hidden persona and the beguiling cadence of 'Patlagica.' Let the music wrap around you like a warm embrace, let it stir your soul, and let it be a testament to the power of sound to unite, uplift, and inspire. San Harley is a force on the rise, and 'Patlagica' is her anthem that resounds across borders, generations and languages.
OFFICIAL LINKS:
https://www.instagram.com/sanharleyofficial/
https://www.tiktok.com/@sanharley
https://www.facebook.com/sanharley
https://open.spotify.com/artist/61bzm2IM54uwko2x3PdTHg
https://www.youtube.com/@sanharley/videos