TATIA is an electronic singer, songwriter and producer originally from Tiflis, Georgia and currently living in Freiburg, Germany. She's been singing for 10 years and works as a singing teacher, sharing her experience with her students while she pursues a degree in Music Pedagogy. Wrapped up in a blend of Soul, R&B, Hiphop and Electronic flavors, the 4 tracks on her "EP_1" project was entirely written, performed, produced and mixed by the artist herself. Very airy, soothing, and sometimes slightly mysterious electro groove, TATIA produces extremely refreshing and new-feeling music. "EP_1" was magic at first listen. Given her unique, futuristic style, I'm not even comfortable assigning a genre to TATIA, much less a contrived, offhand description of her sound.
Working the knobs and the sequencing pads, TATIA orchestrates "EP_1" brilliantly with warm, pastel strokes. Right from the start, the hazy, soulful and magnetizing sound on "How does it feel like" is certainly what will draw audiences; it instantly showcases TATIA as mysterious, highly talented and simply irresistible.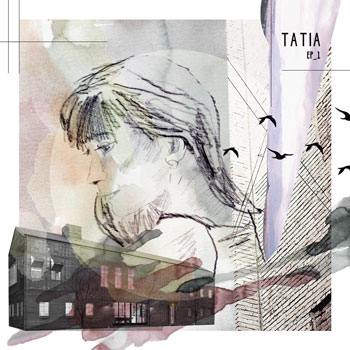 The melody, counter harmonies and softly lush instrumentation leave little room for disregard. It's all simply too tasteful. TATIA's beautiful voice, coupled with her impeccable programming and production skills, make for a fierce toolkit that will get you hooked in no time.
"Not my home" starts off slowly, than transforms into a steady pounding beat, as TATIA examines her new existence:  "I've missed my train, still nowhere to go. These houses look happy and warm, still somehow it's not my place. It's not my home, I'm not at home". It's a catchy, yet dark introspective track, which has impeccable production.
As an album, Another Eternity is the epitome of a grower. The compositions on this recording are for the most part subtle, which means it takes multiple listen before the intricacies of each track sinks in. Once the scope and impact of these tracks are fully realized, it becomes evident that this is a creative and consistently enjoyable material.
"Oh, don't you think my love. We all come and go, where nobody knows. Oh, don't explain my love. I hope I was right, to leave you behind," are the pondering words to which the track, "The sun, the moon" opens to. TATIA's voice again, forges a captivating tone that simply engages your attention with restrained seduction.
The clean, crystal clear approach taken by the production, allows the raw, authentic beauty of her vocals to shine through. The melody and harmonies creates a haunting, dream-like atmosphere, which in reality remains consistent, in varying shades throughout "EP_1".
The more progressive, nuanced style and level of experimentation on "Found me to lose", establishes a welcome sense of diversity in TATIA's music. The pure visceral force of this track is astonishing and makes for over three minutes of invigorating music.
In every way, "EP_1" reflects the work of a mature, adventurous vision. Walking a fine line between various genres, synth-driven electronic music and alternative creativity is in itself difficult, but TATIA has the creative drive, the voice, and consistently strong production values to make it all work.