Ramhero grew up in his small hometown of San Benito, located in South Texas. He started out writing poetry and the spoken word, before publishing a chapbook called "Thoughts to be heard", and then transitioning to writing music. Through his music, Ramhero wants to inspire positive change around the world. His latest single is entitled "Best of it" ft. Slim Spitta & Phoenyx Novelle. There's actual substance to unpack in this single, but Ramhero's indomitable presence on record together with the soulful vocal hooks and knotty production almost make what he says incidental to how he says it.
"Best of it" ft. Slim Spitta & Phoenyx Novelle is what classicist hip-hop listeners may call dope, and even though his music goes beyond the classic hip-hop aesthetic, Ramhero has two essentially dope characteristics: his voice and his lyrics. What he does with words is incredible. He hurls them onto rhymes, shapes them, and twists them around bars, only to reconnect their syllables with poetic devices and turn them into messages and stories.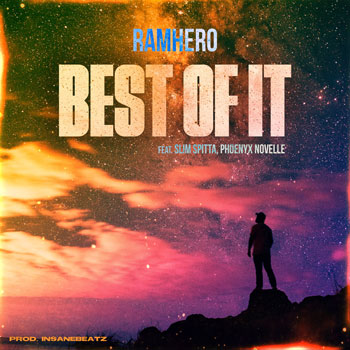 On "Best of it", he keeps things simpler, with a straightforward vision and wisdom putting forward inspiring anecdotes to empower the masses in the face of struggles. Essentially, it is the effects of Ramhero's honesty and modesty that keeps him afloat, above some of his equally skilled contemporaries. He is not so self-aware of his gifts that he becomes over-confident and cocky. This allows him to address his topics with less superficiality.
As Ramhero's verbiage blurs, one can also take into account the beat, where the perfect element is added at the precise time, to establish a definite mood, something the production by InsaneBeatz has ostensibly mastered.
The music itself is amazing, and Ramhero never seems to run out of words to rhyme with. Using all his different influences this creative and dynamic artist is able to create songs so catchy, so rhythmic, and so memorable, as "Best of it" ft. Slim Spitta & Phoenyx Novelle.
This genre always needs someone who knows how to make great songs, but most of all needs artists who show the public how hip-hop can move in different directions. Ramhero is able to give us an outstanding example of this, with "Best of it" ft. Slim Spitta & Phoenyx Novelle. And he shows how he can do this while keeping your head nodding, and you mind attached to the music as well.
All throughout this single, Ramhero proves to be quite the writer, masterfully interweaving numerous literary devices with his philosophical revelations. Moreover, his flow meshes perfectly with the appealing musical atmosphere. "Best of it" ft. Slim Spitta & Phoenyx Novelle rides a mid-tempo groove that is infectious. The production, the flow and vibrant lyricism all point towards a bombshell record encapsulating Ramhero's skillful attributes.
There's a wide variety of ideas at play throughout "Best of it" ft. Slim Spitta & Phoenyx Novelle, but never does the display of skills feel forced. This record is a perfect example of when all the pieces fit just right.
Connect with Ramhero's music: https://ramhero.hearnow.com/best-of-it