"Daddy" is a wonderfully glorious soaring epic with an intimate and heartfelt message, where Australian TV star, Songwriter, Producer and Singer Cherie Laurent, communicates her longing and regret to her passed away father. She attempts to reach out to his spirit, opening her heart about running away from war-stricken Bagdad to flourish to her artistic potential and follow her dreams. She explains the understanding of his disappointment in the choices she had made, and not being the daughter he had wanted. Though she unpacks her soul of its many father-daughter relationship burdens, it's a one-sided discussion. Cherie Laurent biggest regret is not being able to have had that last conversation with her father while he was alive. This is ultimately, what loads "Daddy" with enormous washes of emotional affliction, pathos and melodrama.
Cherie Laurent wrote "Daddy" as a message to her deceased father when she attended his funeral, to say to the world what she so longed to tell him when he was alive, but never had the chance to say. A dramatic and vivacious soundtrack, this single is a treasure trove of consistently superb choruses, expansively orchestrated textures and a driving rhythm.  Cherie's unique vocal timbre and idiosyncratic persona gifts her music with a highly distinguishable identity.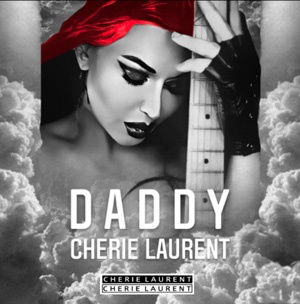 Emotionally powerful and full of impassioned cries, "Daddy" connects its audience with the intimacy and meaning of its narrative, due to being in the hands of an enchanting musical auteur. From the opening notes to the closing bars, there is no doubting the quality and consistency of this record, nor the conviction with which it is performed. It's Cherie Laurent's delectable combination of contrasting influences, that underpins the musical identity of this song.
"Daddy" highlights Cherie Laurent's vocal, lyrical and phrasing ability. A talent, which is vital in this type of music and is clearly one of the areas in which she surpasses many of her contemporaries and peers. Cherie's ability as a storyteller is completely cemented here, in a display of the highest magnitude. Her ever-malleable voice sounds classy throughout the recording, while her natural theatricality enhances the genuine emotion.
A song born of personal experiences in her life – from love, loss and regret – Cherie Laurent has produced a musical masterpiece that is a must listen for anyone with a penchant for more than just shallow mainstream singalong songs.  "Daddy" is a song to connect with and understand because so many people have experienced the same devastating situation. Cherie's voice in the song reflects the pain and difficulty that belatedly saying goodbye to someone already departed, brings with it.
More About Cherie Laurent: At the age of 15, Cherie was cast as an extra in a film. This piqued her interest in acting, singing, painting, and photography. She began her journey with rigorous acting and dancing lessons, gaining numerous parts as an extra in several television commercials. On the set of a television advert, she was spotted by a modeling scout that started her on a path into the wild world of high fashion and modeling. She then wrote, directed, produced, and also starred in the film, "The Message", which received numerous global screenings and accolades.
Cherie was introduced to the Australian audience on the television show "Australia's Got Talent", and was soon featured on the show "Fat Pizza TV".  She was then offered her own Australian television show "Ma Cherie TV". Since her first film, Cherie Laurent has also gone on to produce independent feature films and two television series, "Ma Cherie TV" as well as "Don & Cherie TV" Both television shows are currently streaming on "Roku TV" & "Amazon Fire TV" impressing international audiences.
OFFICIAL LINKS: WEBSITE – SPOTIFY – MA CHERIE TV
Press Contact:
Bobby Leigh
Talent Manager
MOkSHA Entertainment
Tell/Text: +1.323.842.4434
www.mokshaentertainment.com