How does a Nashville singer/songwriter go from country flavored rock n roll songs, to creating a haunting, atmospheric, and epic instrumental horror movie soundtrack? Simple. Just track back to Stewart Eastham's formative years. Born and raised in the foothills of rural Northern California, Eastman was a music and film fanatic from the very beginning—starting with his parents' beat-up Beatles records and horror movie VHS tapes. A lot of his youth was spent consuming horror novels and wandering the horror section of local video rental shops. Thus the challenge of composing the 12 track "Human No More" (Original Motion Picture Soundtrack), almost came naturally.
Stewart Eastham spent weeks bouncing ideas off director Christopher Broadstone while developing the sound palette and basic themes/motifs used throughout the score. In a movie which develops in a murky underworld, where a lone wolf detective crosses paths with a possible serial killer harboring a personal vendetta. "We shared points of reference from Zimmer to Reznor and other specific film scores, but it was really important to both of us to have a score that didn't sound like anything we'd heard before," explains Eastham.
In fact after doing the major part of the recording in his home studio in Nashville, during the 2020 lockdown, Stewart Eastham emerged, not only with a stunning original score, but also as the album's sole producer – a first for the artist, who had previously co-produced his last two albums.
"I wanted the music to feel very organic and lived-in.  To give everything an industrial, worn down feel, I used distortion on almost every sound you hear," elaborated Eastham. The isolation of lockdown also penetrated the aura of the recordings, adding an extra sensorial dynamic to the tracks. The mix of both analog and digital synths, alternates the perception of dark, brooding warmth and sharp, menacing metallic sounds.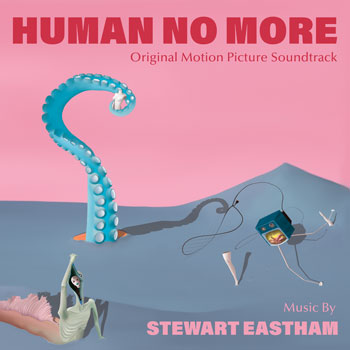 The mixing and mastering by Rich Mouser (Rivers Cuomo, Spock's Beard, Tears for Fears, Weezer) further elevates the technical quotient offered on "Human No More" (Original Motion Picture Soundtrack). All of which leads to an impacting and spectacular recording that flits between slow somber atmospherics, to epic orchestral arrangements, and a whole lot more in-between.
There's undoubtedly a method to Stewart Eastham's work, but the beautiful and haunting sounds he makes, impresses due to his dedication to reimagining the potential of sheer volume and plunging walls of noise. Within that sonic spectrum, he finds plaintive lulls, booming peaks, whirling emotions, but as tried-and-trusted as those cinematic structures are, there are many unexpected subtleties that make this album a surprising listen.
With "Tiny Imaginations" and "Reinventing Perspective" the albums starts out eerily and tentatively, before embarking on the almost 10 minute meandering build of "Curious Crimes".  By the time it arrives to the halfway mark, Eastham has already unfolded his stealthy orchestral tendencies, which reach a brilliant all-embracing apex on "Unique Insight". Though he never abandons the harsher industrial sounds, which can be found right after, on "Forensics".
"Oblivion" and "Bright Eyes" have all the hallmarks of classic Hans Zimmer, specifically in his works with Christopher Nolan, where dynamic mood and tension dominate the musicality. There are many sides to Stewart Eastham's creations. These scores can be heavy, or light. They can pin you to the wall, or they can caress you. However best of all is the fact that even without the aid of any visuals, "Human No More" (Original Motion Picture Soundtrack) stands alone as an intriguing listening experience.
This album represents a high watermark in a career full of diversity for Stewart Eastham, and while continuing with his lyric based songwriting in Nashville, Eastham plans to move further into the world of film scoring. And not without reason, "Human No More" feels like a type of culmination of where Eastman's talents have been heading over his last studio album – it feels more coherent, bolder and without the genre shackles that limit his full skillset of creativity.
Connect with Stewart Eastham:
https://music.stewarteastham.com/
https://www.stewarteastham.com/