LAUNDRYMAT FAM is a group of three brothers from Tuskegee Alabama – BIGSAM, BIGLAUNDRY & DRE DAY, who have been doing for about 8 years. They recently dropped the single "On Me", which offers everything we could have wanted from the Southeastern trio. They put on a stellar performance, embodying all aspects of their dynamic skillset from both a stylistic and topical standpoint. From the boom of the beat, to the smoothness of melodic hook, and the urgency of the rapped rhymes, the crew understand each other so well, and it is reflected in the project from start to finish.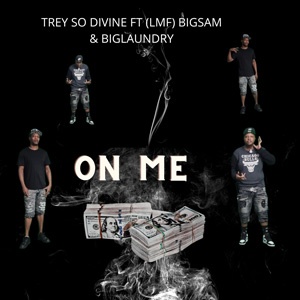 They create an intoxicating sonic environment to "On Me", bringing so much energy and passion to the track, while building a fantastic collaborative atmosphere. This record is certainly a fine addition to their catalog.
LAUNDRYMAT FAM never sound fake, and jump from one verse to the next with absolute nimbleness. There's nothing wasted on this track, as every move purposefully builds to a crescendo.
LAUNDRYMAT FAM, like the best artists out of their region, know how to fuse the groovy sounds of their city with relatable streetwise tales, without sacrificing one for the other.
They understand the beauty of being human is the variety of our experiences, and then learning from them. Hence, they hand out some valuable and smart lifestyle anecdotes on "On Me".
LAUNDRYMAT FAM's ability to slide in and out of melodic lines and lyrical bars, across "On Me" is effortless within a track filled with confidence and swagger.
The whole concept is very well thought out, and the production game is on point. Tastefully bouncy, the beat is a no-brainer. Without a doubt, LAUNDRYMAT FAM's forte is, to put it simply, vibes. If people stop grooving when you put on "On Me", you're at the wrong party.
"On Me" is a musical triumph that blurs the lines between modern trap and lush, organic rap. LAUNDRYMAT FAM have a very keen ability to imbue their music with a sort-of impenetrable authenticity – one that isn't exclusive and insurmountable, but comforting and as dedicated and literal as you want it to be. No matter what LAUNDRYMAT FAM choose to rap about, they come off so damn smooth about it.
LAUNDRYMAT FAM have a lot to say with their music. What benefits them greatly is just how casual and approachable they come with it all. "On Me" is one of those tracks that makes every moment worth it.
Its brilliance is in the fact that LAUNDRYMAT FAM get very real and vivid quickly, without killing the vibe. The Alabama collective is rapping and harmonizing the sound that make up the genre's modern cultural tapestry, and they do it with the charm and expertise of the best in their field.
It's a quality that has brought notoriety to many of their so-called peers. Hence, there is every possibility that they themselves could emerge from their local music hub rather victoriously with "On Me".  The track represents LAUNDRYMAT FAM, an exhibition of their talents, and a glimpse into their world. Nothing is beyond their realm.
OFFICIAL LINKS:
https://open.spotify.com/track/4XjhLaJYu66wM5inTQ5Jw4?si=EZ3dU2fdTK-j-7-oj6Jb_w&utm_source=copy-link
https://www.instagram.com/big_samm81/
https://www.instagram.com/m.sutton82/
https://www.instagram.com/treysodivine/